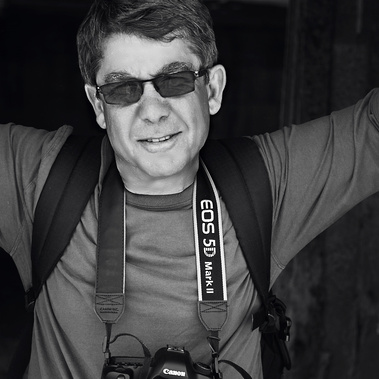 A few things you may want to know about me:
-I was born and raised in Moscow, Russia. I am and forever will be a big city person. San Diego barely cuts it.
-I have an accent a few people find charming, the rest… you know.
-I still have a Russian made Zorki camera and remember how to develop film.
-"Since I've been loving you" by Led Zeppelin is my favorite song.
-I'm 5'4," which makes for some funny photos with models.

The things you need to know about me:
-Photography is my life, no more, no less.
-I am very reliable.
-I am a perfectionist. I really want to please my clients. I am easy to work with.
-I like to discuss the photo shoot ideas with clients prior to pushing the button: it's all about them, not me.
-I am a mobile studio. I will come to your location and set-up a photo shoot in 20 minutes, even if there is no space.
-I like to travel. So if you need me in Paris just ask.
-I graduated from the New York Institute of Photography.
-I am a member of the American Society of Media Photographers (ASMP)
-I won the Grand Prix in the APA National Competition.

Biography
Leo Malevanchik Bio
Originally from Moscow, Russia Leo Malevanchik has been living in San Diego since the early 2000s. It is become a cliché to write that your love for photography began with your first camera and sleepless nights at your bathroom converted into a make shift darkroom. But that was exactly how it began.
The first pictures he took hypnotized him. These were black and white images of his friends doing their things. They were probably very bad. It did not matter. Later that year he met these guys from the rock group. He became a part of Moscow underground rock scene and spent next 2 years on the road photographing young Moscow and St. Petersburg musicians, hippies, and all kinds of characters. Speaking about a dream job. He enrolled himself in the class of famous Russian photographer and art historian Alexander Lapin and later graduated from New York Institute of Photography.
In the last decade Leo created an impressive portfolio. He is a member of American Society of Media Photographers (ASMP). He won the Grand Prix in the American Photographic Artists (APA) National Competition in 2006. Leo's photographs were exhibited at the Art of Photography Show in San Diego. His art is featured in a number of private collections and published in a book "In the Room with Strangers" He cannot live without taking photographs. It gives him an opportunity to meet people, to explore their hopes, dreams, and insecurities. He regularly covers events, life music performances, and fashion shows around the world.
Press
Associations
American Society of Media Photographers (ASMP)
La Jolla International Fashion Film Festival
Bellus Academy
Clients and Publications
Bellus Academy
NY Fashion Week
LA Fashion Week
SD Fashion Week
The Goods Magazine
Republic of Letters Band
Fine Magazine
Nouveh Magazine
Dark Beauty Magazine
Las Rosas Magazine
Picture Magazine
Haim LTD Salon
Medavog Couture
Diana Cavagnaro
Tiffany & Co.
Annette's Couture Millinery
Fiori Couture
La Jolla International Fashion Film Festival.
here.